Veneer Peeling Knives.

The steels we employ are distinguished by their excellent edge holding properties and toughness.

Made from cladded steel impregnated with high tungsten.

Precise hardness for long life & minimum regrinds.

Heavy duty & durable operation without any breakage or chipping on any wood.

Dimensionally stable yet flexible.
Chopping & Slicing Knives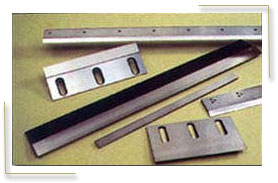 Also available chopping & clipper knives, pressure bars, homback blades, knives for tea chest, matchstick industries & blades for tobacco cutting (MRTC/ Hauni).