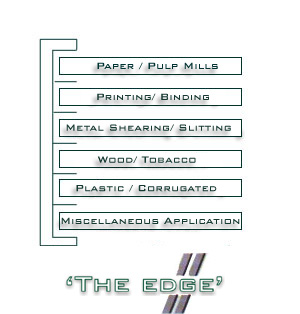 Printing/ Binding

Guillotine Knives.

3-Side Trimmer Knives.

Online Trimming/ Stitching Blades.

Slitting, Perforating & folding knives.
Guillotine Knives


Heavy duty trouble free operation due to apt hardness.

Combined/cladded steel of tough unalloyed carrier inlaid with high tungsten tool steel edge.

Precision ground bevels at accurate angles to suit compatible applications.

Finely honed edges with no teething & chipping problems.

Long intervals between resharpenings.

Sizes available compatible with most popular machines such as Perfecta, Polar, Maxima, Mandelli, Schnieder, Wohlenberg, Challange, Itoh, Goodhale, F.L. etc.


Three Side Trimmer Knives

Optimally heat treated and precision ground.

Unmatched fitment due to accurate profile & customization.

Clean dustfree & lintfree cutting.

Sizes available ex. stock compatible with

perfecta, Kolbus, Wohlenberg, Horauff, Yoshino, Mc Cain etc.

Online Trimming/ Stitching Knives.


Ex stock availablity of knives compatible with Macey, Muller Martini, Harris/ Brehmer/ Polygraph Flowlines, Osaka, ECH Will, Bielomatik, Sheridan & other popular machines.

High effciency, low machine downtime, seldom reset.

Combinations available in HCHCr (D3), HSS (M2)0r OHNS (52100) for top and bottom blades.

Slitting/ Perforating/ folding/ Pleating Knives

Ideal for slitting, punching, trimming, folding & pleating.

Range includes core cutters, scouring blades, disc knives, micro porforation wheels.


Serrated rules with special profiles for accurate & effective perforation.


Available in various sizes, shapes and profiles to suit popular machines like Stahl, O & M, Harris, MBO, Baum Folder etc.